14/10/2014
Holy! You sanctify me and the abyss of waters .... Andrea del Verrocchio



Baptizing you, Lord! in Jordan,
Yes, in sanctifying the bath water and the Spirit
Omoesh verbal nature of sin,
In three persons was revered deity:
Father invisible, He Who is, every reason
You declared vozlyublennago Son;
And in the form of a dove, an example of purity,
The Spirit of God to Thee Gathering of the height,
Truthfully approved Otecheskago words.
You're the world in the cloud cover telesnago
Appeared, holy Light! razgnal sinfulness mist,
And faith shining world reads Thy praise.
You've come to the voice thundering in the desert:
? Prepare the Most High the path of truth and holiness !?
Groom verbal shower! to a friend of the Bridegroom,
Baptism is not asking leading sin,
View assumes the slave, the Lord of all nature!
Saw thee, and they were filled with water;
And trembling cried husband, sent by the Creator,
Husband-angel before thy face preceded by:
How to Light a lamp enlighten inconspicuous?
As King put his hand on the slave nischetny?
You vzemlesh sin of the world fleeing mortal race,
Holy! You sanctify me and the abyss of waters.
Shira-Shikhmatov Sergey Aleksandrovich (1783-1837)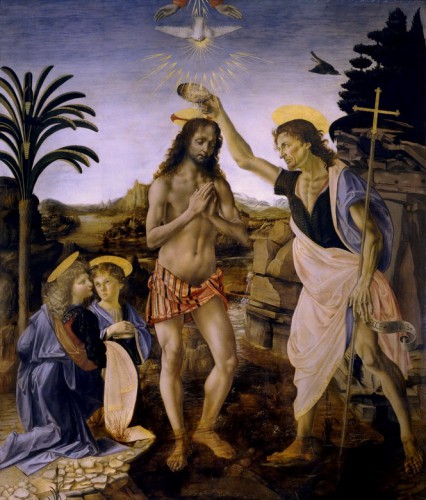 Andrea del Verrocchio. The Baptism of Christ, 1475 Oil on wood.
The angel on the left (bottom left corner) - the creation of Leonardo da Vinci

According to the Gospel story, after his baptism, Jesus Christ, led by the Spirit, went into the desert to in solitude, prayer and fasting to prepare for the execution of the mission with which he came to earth. Jesus forty days? Was tempted by the devil and ate nothing in those days, and when they finally were hungry? (Luke 4: 2). Then came to him the devil and the three seduction tried to tempt him to sin, as every human being.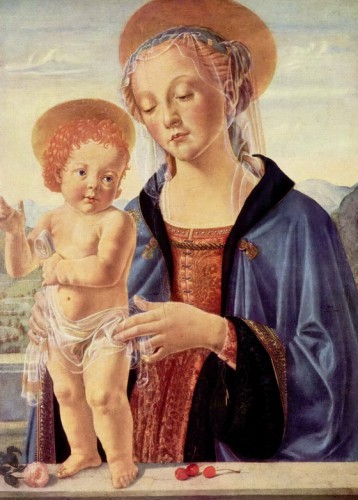 Andrea del Verrocchio - Madonna and child, 1470-75 period, Tempera, Leinwand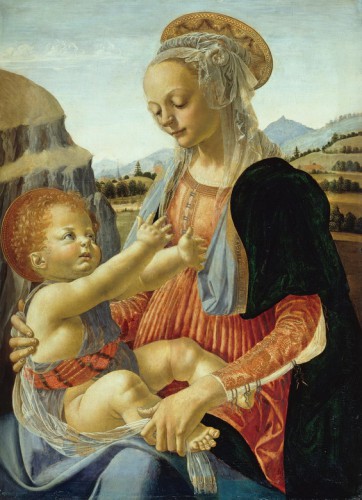 Andrea del Verrocchio - Mary with the Child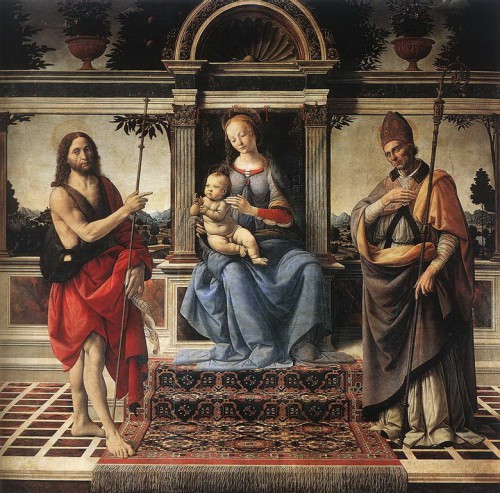 Andrea del Verrocchio - Madonna with Sts John the Baptist and_Donatus

Andrea del Verrocchio (Andrea del Verrocchio, real name Andrea di Michele Cioni-Andrea di Michele Cioni) (1435, Florence in 1488, Venice)

to Italian sculptor and painter of Vozrozhdeniya.Imya borrowed from his teacher, yuveliraVerrokko.On trained such as the Renaissance genius Leonardo da Vinci, Pietro Perugino and SandroBottichelli.Predanie states that one of the most striking outcome of the spiritual union of the student and the teacher was a sculpture of David for which posed a young Leonardo.V 1476 Andrea del Verrocchio's statue created Davida.Eta graceful bronze statue has become a symbol of Renaissance culture.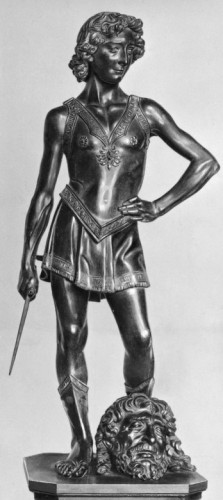 Andrea del Verrocchio - David, 1473-75, the bronze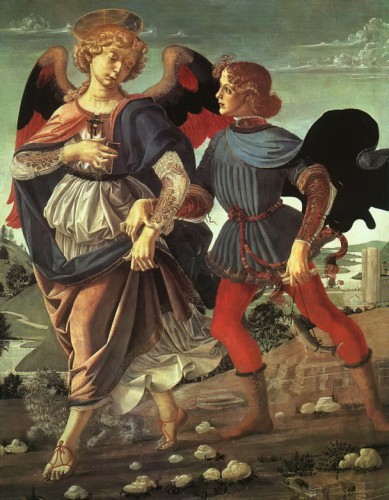 Andrea del Verrocchio - Tobias und der Engel 1470 - 75 Oil on wood