11/12/2014
Stepanov Claudius P.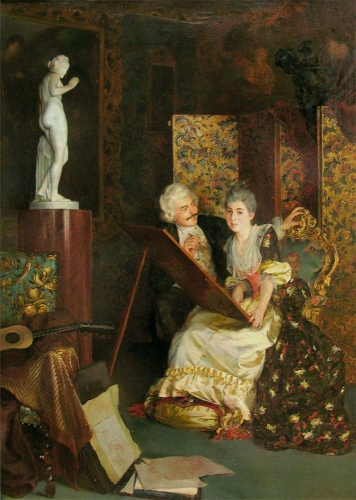 Stepanov P. Claudius (1854 - 1910)
"Drawing Lesson" 1890
(all images are clickable)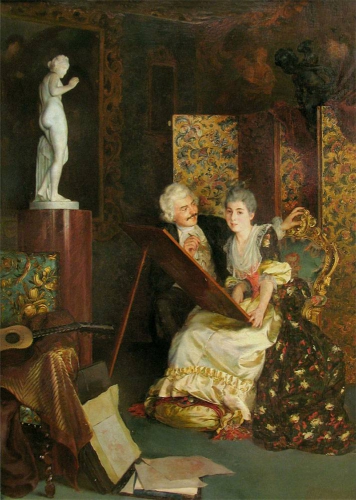 Stepanov P. Claudius (1854 - 1910)
"Girl with a lute" 1894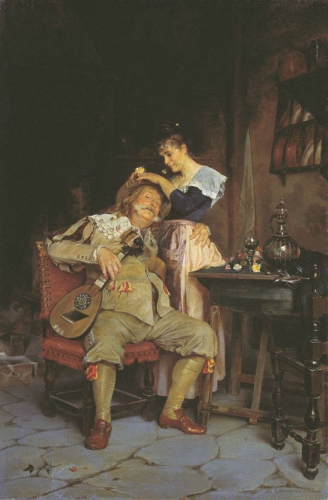 A gray head, and a lusty 1888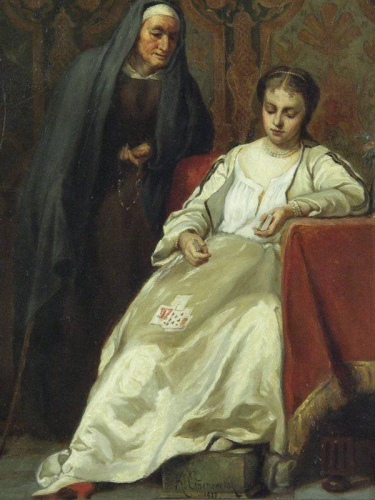 Marina Mnishek before the vows as a nun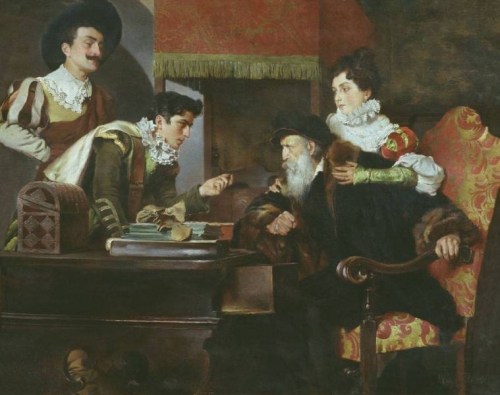 Stepanov Claudius P. 1902 Genre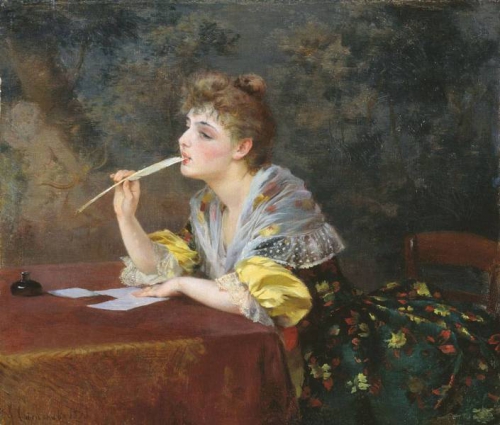 Stepanov Claudius P. Letter 1893
Stepanov Claudius P. (1854- 07/15/1910), a painter, a prominent figure in the right-monarchist movement in Moscow, the editor of the newspaper "Moskovsky voice," employee "Moscow News".
Serious studies painting Claudius P. Stepanov started in their early thirties. Until that time, he finished his studies at the Lyceum Crown Prince Nicholas in Moscow and the historical-philological faculty of St. Petersburg University (1877). In the years 1876- 1877 for eleven months volnoprihodyaschim student attended the Academy of Fine Arts, and managed to get to her silver medal for drawing. In the years 1877-1878 the Life Guardsman Preobrazhensky Regiment K. Stepanov involved in Russian-Turkish war. Only in 1880, after two years of service, officer on special assignments at the Ministry of Finance, he went to Italy, where he settles in Florence where resumes its way into the painting. Since 1885 the artist's paintings was held begin to appear regularly at academic fairs in St. Petersburg. In 1888, the increased skill KP Stepanova was appreciated by the Council of the Academy of Arts - he was awarded the title of class artist of the first degree. By this time, the work of the painter are well known to fans eagerly bought by collectors, among them - PM Tretyakov, AN Rusanov, Grand Duke Konstantin Konstantinovich. Among these paintings - professionally made poor fellow violinist, Scene from the embassy Chemodanova in Florence under Tsar Alexei Mikhailovich in the XVII century, Don Quixote after a battle with windmills, Miserly, Mother nursing baby, Merchant, gray in his beard and lusty. KP Stepanov their originality and craftsmanship has established itself among the leading Russian artists of the late XIX century.
The favorite child of the last years of his life has been based at the Donskoy Monastery icon painting school. With this involvement in community activities, he found time for creativity. His brush owned all the murals in the temple-tomb led. Vol. Sergei Alexandrovich Miracle Monastery in the Moscow Kremlin. That his work is very appreciated and loved by Muscovites, painting temple-tomb was his best work. The hard work has undermined the health Stepanova, it is too late to agree on arrangements to go to the doctors for treatment in Yalta, where he died in the summer of 1910. Rightly noted author of one of the obituaries he remained until the end of days, "a typical representative of the crystal-clear conservative idealism."