07/02/2015
Makovsky Konstantin Egorovich.


Makovsky Konstantin Egorovich.


"I'm not buried his God-given talent in the ground, but have not used it in so far as what it could be. I'm too fond of life, and it prevented me from fully their art." KE Makovsky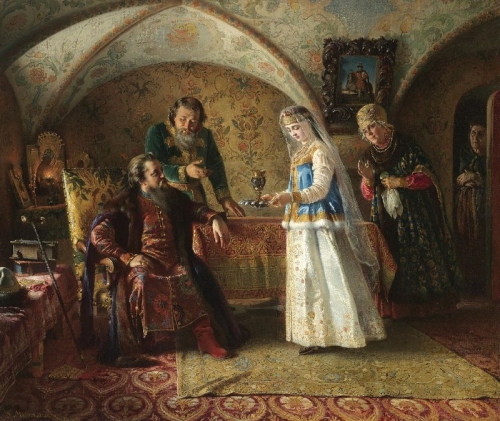 From everyday life Russian nobleman in the late seventeenth century.

Konstantin Makovsky (July 2 (20 June), 1839-30 (17) September 1915) - a famous Russian artist, who joined the Wanderers. Konstantin Makovsky is also representative of academic art. Konstantin was born in Moscow, the eldest son in a family of Russian artists and amateur artist, Yegor Ivanovich Makovsky. All children Yegor Ivanovich became prominent artists. Constantine later wrote: "The fact that I came from, I find myself not obliged Academy, not a professor, but only to my father." In 1851 Konstantin entered the Moscow School of Painting, Sculpture and Architecture, where he became the first student easily get all the awards.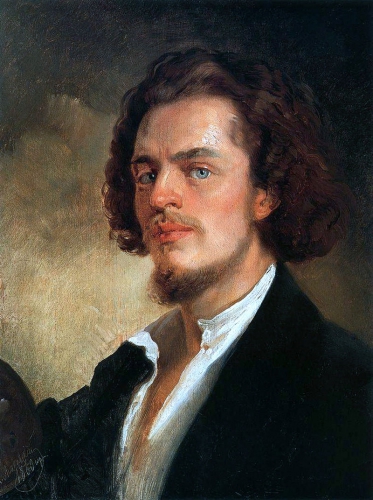 Self-portrait. 1856.


In 1858 Makovsky entered the Imperial Academy of Arts in St. Petersburg. In 1863 Makovsky, together with 13 other students selected to participate in the competition for a gold medal of the Academy, refused to paint on the theme of Norse mythology and left the Academy without a diploma. In 1870 he became one of the founders of the "Association of Traveling Art Exhibitions" and continued to work on paintings devoted to everyday life. He exhibited his works at exhibitions of the Academy as well as on mobile art exhibitions. In 1880 he became a fashionable author of portraits and historical paintings. At the World Exhibition of 1889 in Paris, he received a gold medal for the painting "The Death of Ivan the Terrible", "Judgment of Paris" and "Demon and Tamara". He was one of the most prized and highly Russian artists of the time. Makovsky was the victim of an accident (in his crew crashed tram) and died in 1915 in St. Petersburg. Makovsky son, Sergei Konstantinovich - known figures of Russian culture of the Silver Age.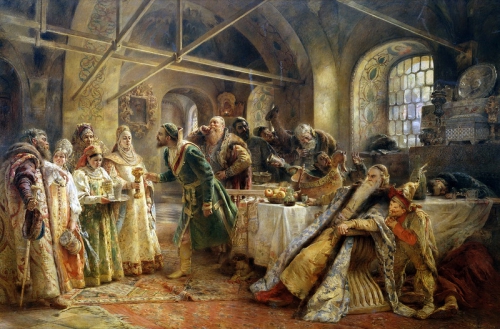 Or kissing ceremony. 1895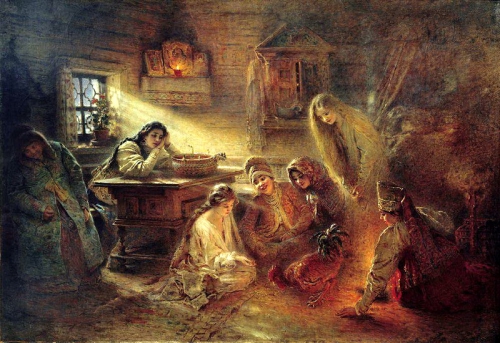 Yule divination. 1890s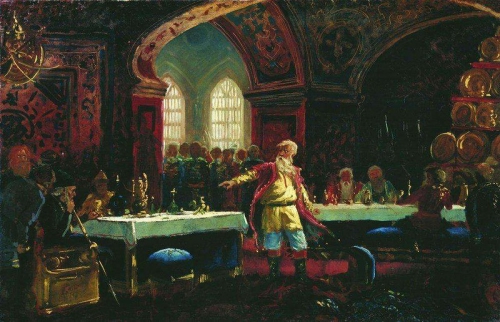 Prince Repin at the feast of Ivan the Terrible. 1880.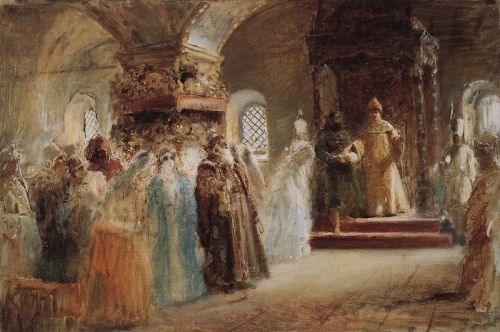 The choice of the bride Tsar Alexei Mikhailovich. 1886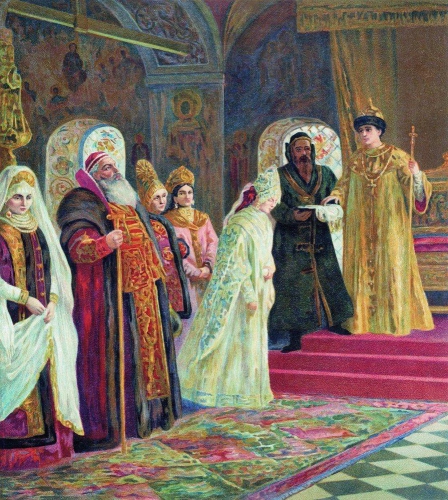 The choice of the bride Tsar Alexei Mikhailovich. (Fragment) .1886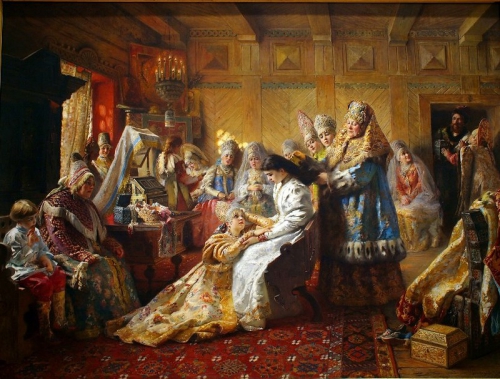 Down the aisle. 1884