29/04/2015
The artist Raoul Dufy
Receive e diary posts.


The artist Raoul Dufy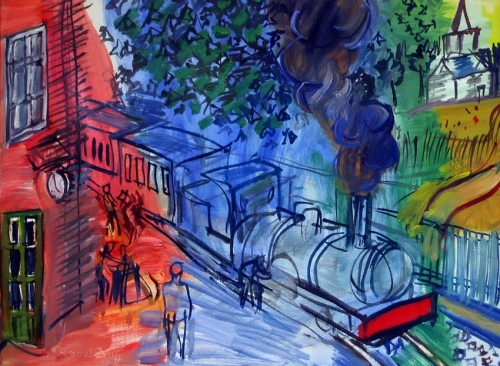 Ticket -
Click.
Cheek -
Smack.
Whistle -
and rushed to us,
where,
like herring,
Network Stocking
float
ladies round the world.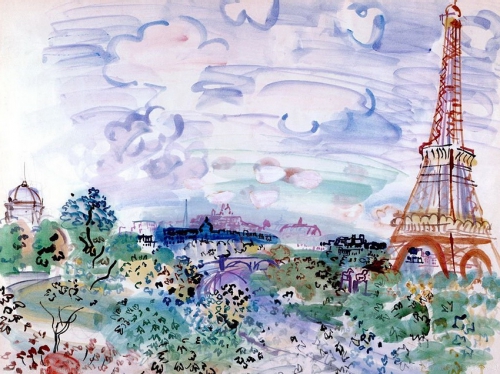 Today arrives -
freak-freak
and tomorrow -
learn dare-ka:
one
decked
and the city and the mouth -
lipstick
lights cosmetics.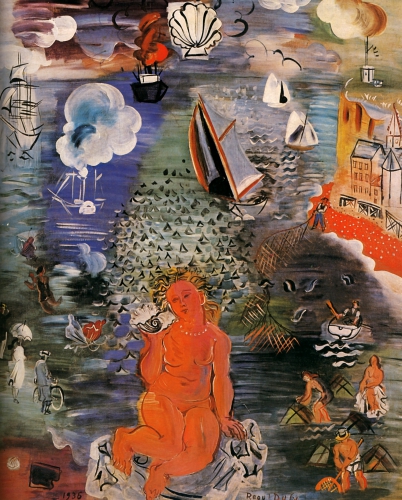 Merry
pulls into the distance here.
In Paris, sad?
Hardly!
In Paris
area
and that Etoile,
and the stars -
so completely etuali ....
Mayakovsky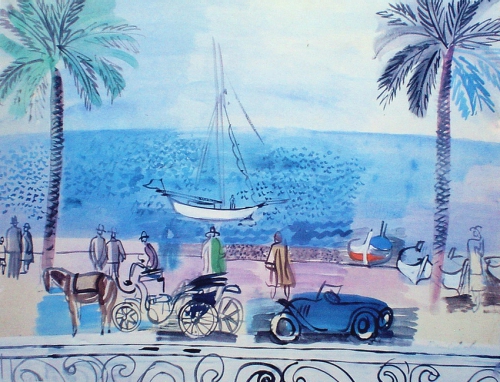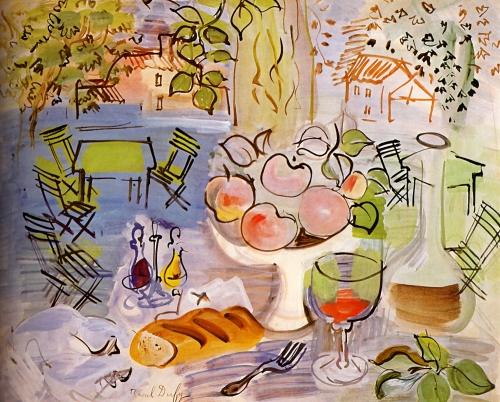 Artist, designer, illustrator, ceramist, designer fabrics Raoul Dufy (Raoul-Ernest-Joseph Dufy) was born in Le Havre 3 June 1877. Early awareness of the creative vocation Raul undoubtedly contributed to her family Dufy art, especially music, interests.

Art Raoul then repeatedly remind music, which flows in the atmosphere of his childhood. The large family was the cause of the early independence of Raoul Dufy: in fourteen years, he, the eldest of the children had to leave the College of St. Joseph to make a living. The desire to become a painter Raoul Dufy strengthened during the work in the port. The father did not resist his desire to write, but I had to earn a living. One year later, Dufy started attending evening classes of the municipal school of art. Mentor Dufy turned a fan of Ingres and Corot portraitist Charles Lhuillier, who also studied Othon Friesz and Georges Braque. Not loving the "sluggish" painting, he did not let the search for young artists, for which he has repeatedly accused the inspectors of the Department of Fine Arts, "heresy." In 1900 the municipality of Havre appointed him a stipend of 600 francs a year for continuing art education in Paris.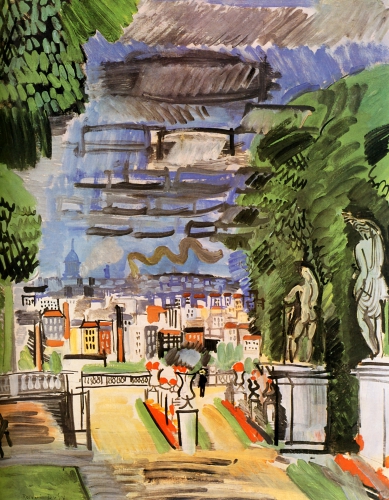 Park in St. Cloud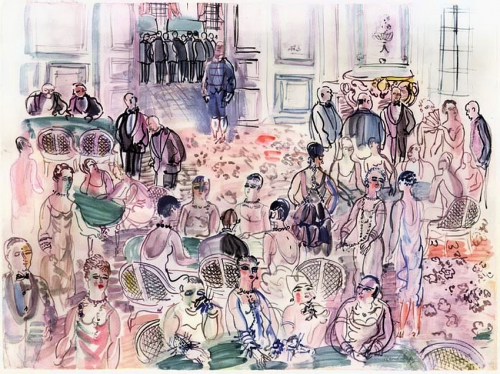 Studied Dufy, at Leon Bonnat, a recognized master of European academicism that hostile attitude picturesque hobbies Dufy, did not approve of his search for light and pure tones. During this period, Dufy discovers Monet and Pissarro, Manet and Corot. He is attracted by the Durand-Ruel Gallery and other galleries and shops Montmartre, where they sell paintings (Vollard, Essel and sago, Berthe Weill). Dufy wrote city landscapes in the impressionist style, influenced by Monet and Degas. Paintings that time did not bring tangible success Dufy, but still noticed.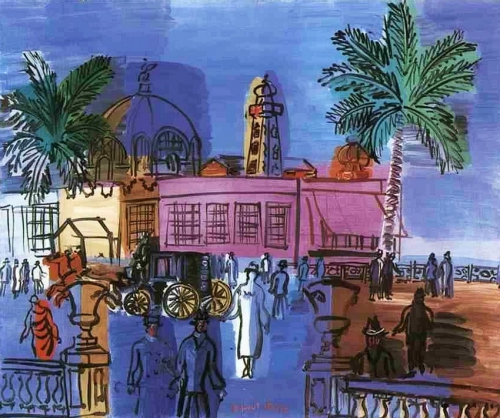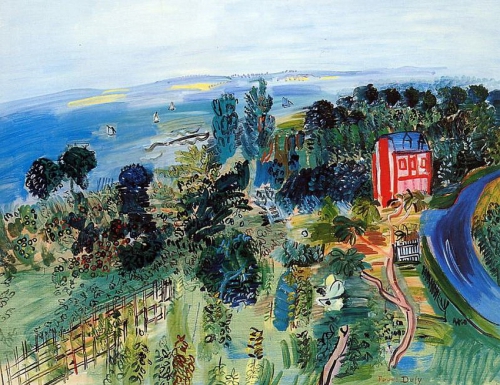 Solntse Villerville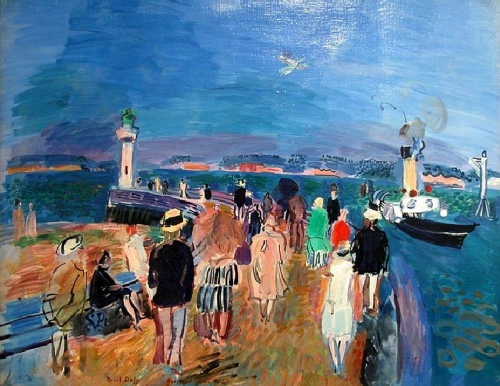 Since 1906, Dufy begins to understand and deeply appreciate the art of such masters of modern art as Cezanne. It becomes not only a model of Dufy high artistic wisdom, but also an example of honesty man never compromise its principles for official awards and personal prosperity.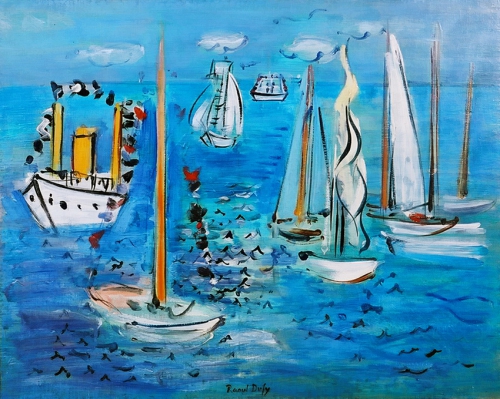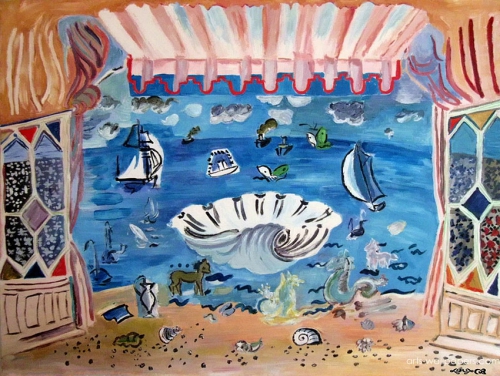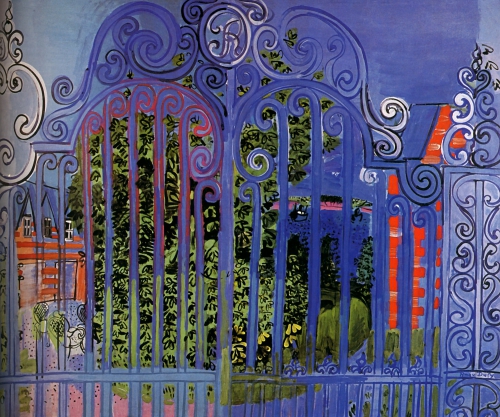 Paul Poiret - "High seamstress" in Paris, being kind to the highly artistic, immediately recognized the born Dufy decorator. Poiret started giving Dufy a variety of tasks.
The artist is making every effort to thoroughly master the new technique for himself: he visited the chemical laboratory, repeatedly present in printing fabrics. He is experimenting to reach new decorative effects. Getting to the creation of fabrics, Dufy refers to the experience of the XVIII century, when the production of decorative fabrics reached its heyday. Dufy is usually used two colors, rarely three, thereby achieving a special beauty and purity of color and coloristic laconic, to which he came into his sezannistskie painting.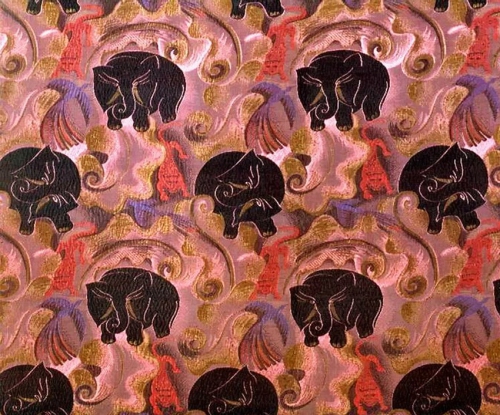 Slony. Sketch painting fabrics


Moryak or Neptune. Sketch painting fabrics 1918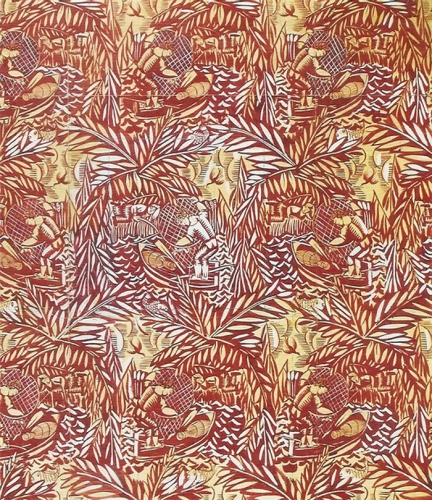 Rybak. Sketch painting fabrics 1918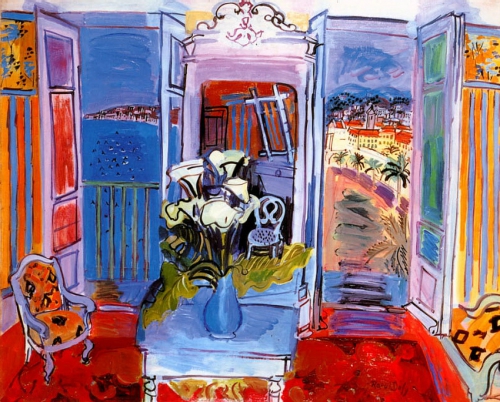 Interer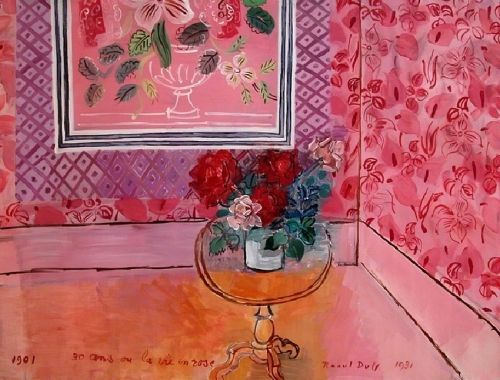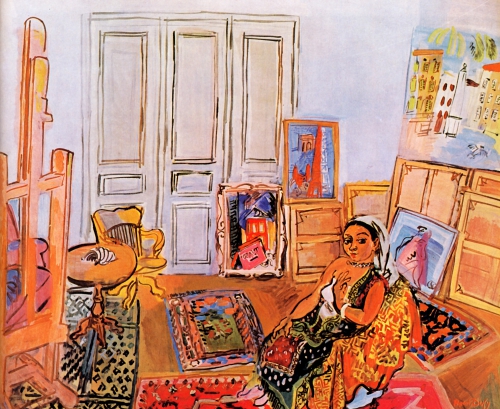 The artist became interested in the textile king Bianchini and invited him to work for him. Financial stability was needed to Raoul Dufy. The far-sighted and wise Poiret gave Dufy freedom of choice. So from April 1912 Dufy was appointed draftsman to the staff of the company Lyons Bianchini-Ferier. The contract with Bianchini interrupted only during the First World War. After the war, anticipating what the profits would be getting if Dufy gave all his energy producing tissue, Bianchini invited him to participate in the earnings of the enterprise. "I gave up millions to save their art and to do it to taste the merchant. The owner, however, was not hurt." And you strong man, "- he told me straight in the eye."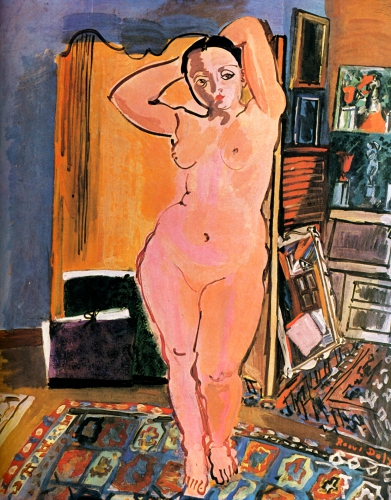 Obnazhennaya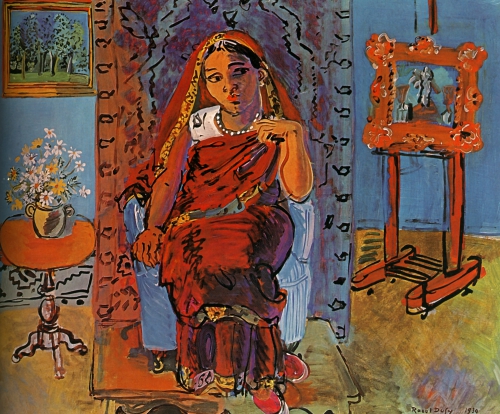 Interer with an Indian

Only in the 1920s Dufy's painting finally gaining recognition. Finale has made an unusual discovery made Dufy in 1926 in Honfleur, - the shape and color are not always quite the same. Dufy paintings are now the coloristic foundation on which is then applied to the picture that is ligature fast deposition of thin lines. One of the first works carried out in such a manner was the picture "Nice Casino"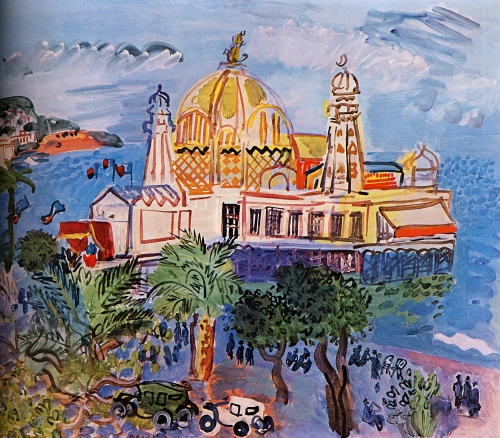 Kazino Nice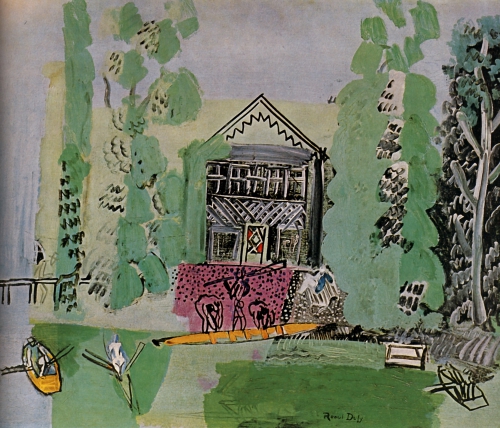 Grebtsy the Marne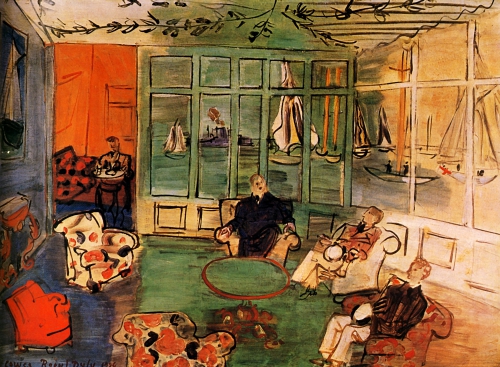 V yacht - club




So, at the beginning of the 1930s Dufy became famous. In 1926 he was awarded the title of Chevalier of the Legion of Honor. His personal exhibitions were held in Zurich and Bryusse, Prague and New York. Although previously he had loyal fans. One of the first collectors of Dufy was Dr. Maurice Girardin and young doctor Romanian Alexandre Roudinesco, which invested in painting all their money. For the first time the product gets to the museum Dufy - in 1932 the Luxembourg Museum in Paris buys his painting "Paddock at Deauville."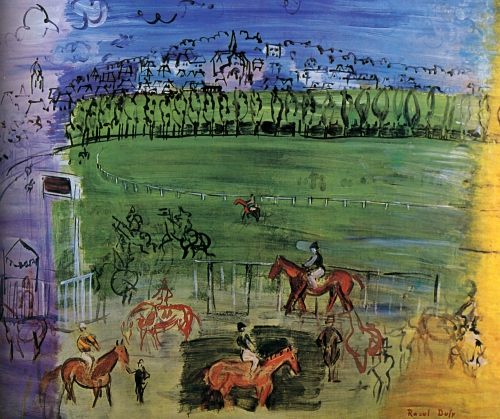 Ippodrom Deauville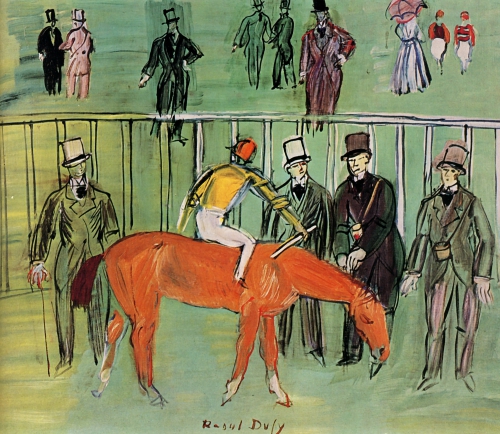 Na racetrack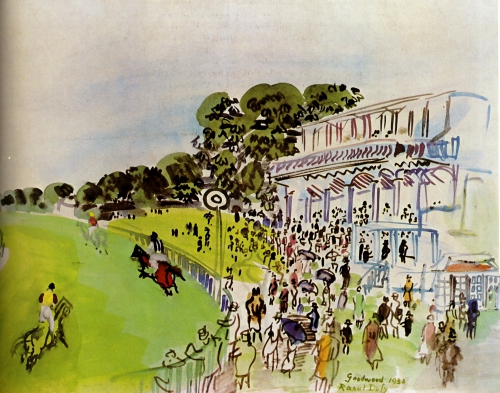 Na races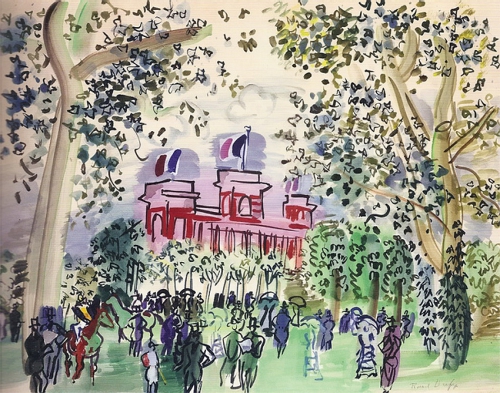 Peyzazh in Deauville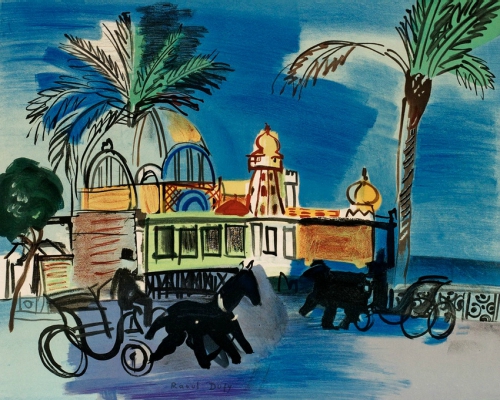 During World War II Dufy held in Perpignan, where the climate suits him health. After the war he moved to Vence, but is forced to return to Perpignan at the clinic of Dr. Nicolaou. In 1949, Dufy undergoing treatment in Spain, and the following year at the invitation of a prominent American medical Homburger (Freddy Homburger), a great admirer of his painting is sent to the United States.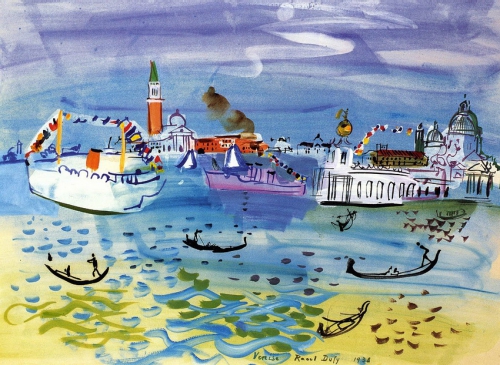 Venetsiya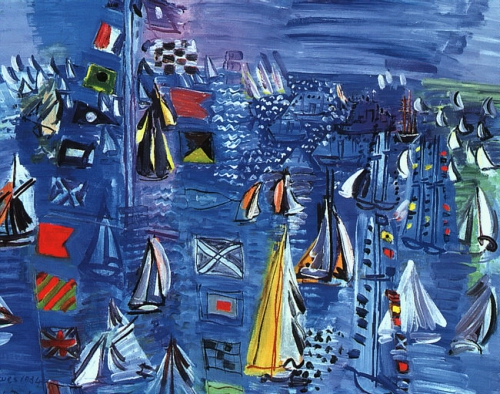 Regata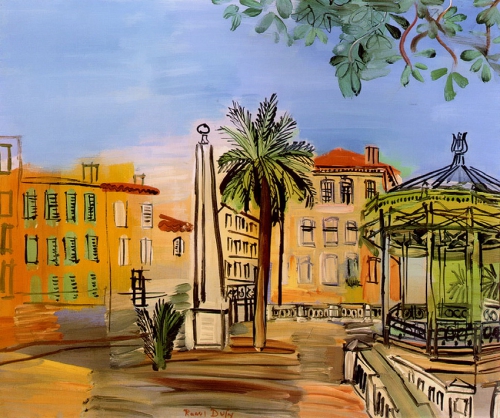 Gorodskoy landscape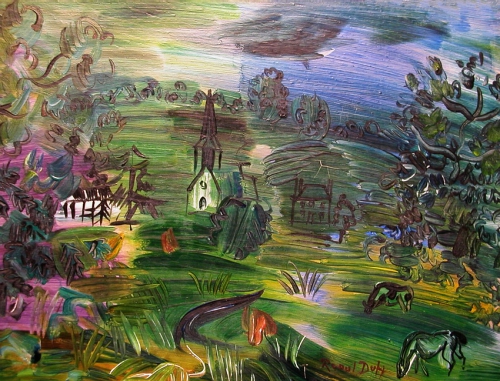 Peyzazh with cattle

After treatment in Boston, and a few months spent on the advice of the doctors in the dry and hot Arizona, Dufy in 1951 returned to France. He arrived in Le Havre, which affects his own destruction. He sees this as an omen of impending death, and in a hurry to complete a number of unfinished canvases. Some of them are shown at the Venice Biennale in 1952, where Dufy awarded the Grand Prix. This award it sends to young artists. The last year and a half Dufy spent in Provence, in the village of Forcalquier, about which they say that here is the dry climate in France. But the days are numbered artist. March 23, 1953 Dufy died, he was buried in the cemetery of Cimiez (Cimiez) in Nice, in his last journey escorted Marc Chagall. Three months after the death of the artist National Museum of Modern Art in Paris is organizing the first major retrospective exhibition of Raoul Dufy.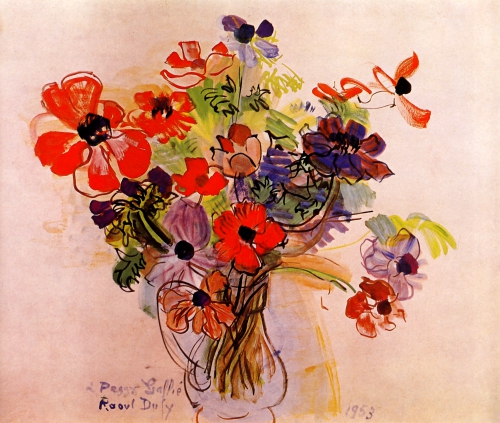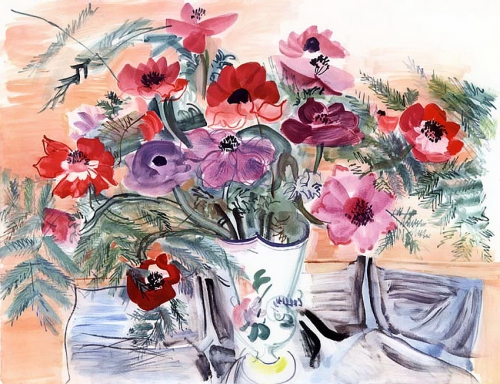 You write on the need to understand and confidence, and that surrounds you, you write out of a desire to become stronger, closer to what is above us, and to write a few friends who appreciate, which is expected to sincere opinions, but mainly before you write for others, write for yourself.

What I want to show, as I write - that's how I see things with my own eyes, in my heart. I do not follow any particular manner, and forget all the laws that take my brush and paint.