05/05/2015
Invisible tree. "Secret" The Charter Oak fresco Adam Niklevicha
Receive e diary posts.


Invisible tree. "Secret" The Charter Oak fresco Adam Niklevicha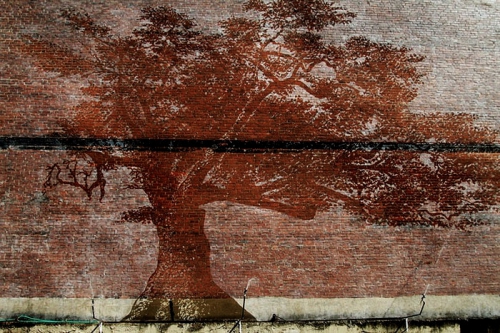 Polish-American artist Niklevich Adam (Adam Niklewicz) is known for his unconventional approach to art in all its manifestations. So, once we have surprised his sculptures, shows another side of our usual things and objects, and providing an opportunity for a fresh look at it everyday and workaday that surrounds us. Recently, the artist painted on a brick wall of the old synagogue in the city of Hartford unusual mural The Charter Oak: a huge oak tree, a symbol of the American spirit of independence. Why the unusual? The fact that this massive tree can be seen only under one condition: if the street is damp and rain.

This condition is very symbolic, as water gives life to all living things, nourishing the people, plants - and the trees, too, allowing them to grow, to blossom and flourish. To achieve this effect for secrecy murals, the artist had to work considerably. First, cut out and stick on the wall image of the most famous oak, and then applied to a large area of ??brick wall with water-repellent coating, leaving intact only the surface of the tree-fresco.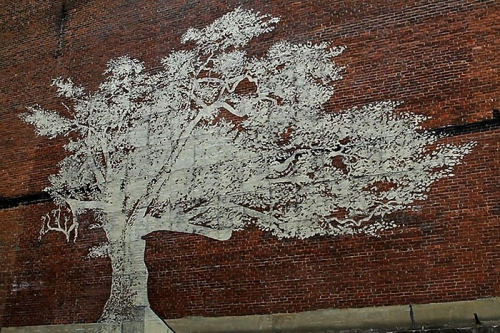 Once the template is removed, it was impossible to guess that this wall conceals a secret art. And the only way to reveal the secret - to wait for rain or wet brick wall of an atomizer or sprayer. These "water cannon" project author set against the wall with The Charter Oak, wishing to admire the unusual picture is not sticking out in front of her, begging for rain from the sky, and could arrange it yourself.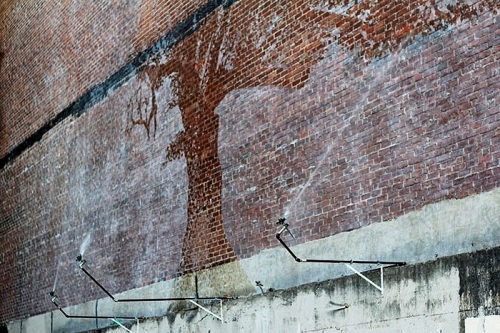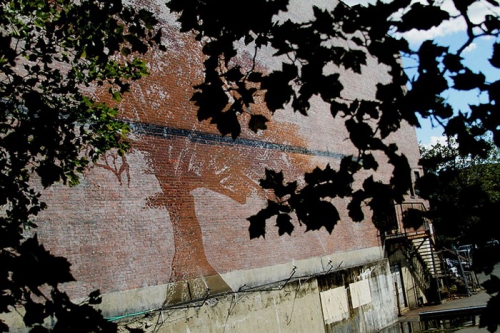 By the way, curious people, eager to witness manifested mural depicting oak, quite a lot. Because art project The Charter Oak Niklevicha artist Adam (Adam Niklewicz) is a success. To see other works of the author can be on its website.