22/01/2015
Remaining in childhood, Moscow courtyard! Philip V. Kubarev



Remaining in childhood, Moscow courtyard! Philip V. Kubarev

Kubarev Philip V. was born in 1969.g in Moscow. In 1987. graduated from the Moscow Art School at the Moscow State Art Institute. Surikov. In 1991 - 1993 he. studied at the Krasnoyarsk State Art Institute. In 1998. graduated from the Moscow State Art Institute. Surikov. Member of the Moscow Union of Artists. Member of more than a hundred national and Moscow exhibitions.
His works are in many private collections. The main tema- cityscape.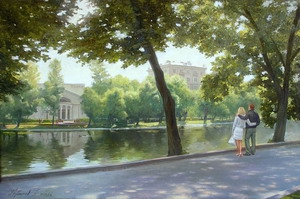 Moscow routes, routes friends
Zasyadu in "bukashechku" Makhno at random.
A circle wide, rings gardens.
In the streets of narrow curl up on the Arbat.
Green boulevards yes patios old
Legends of the capital, lilac look.
Plyushchikha three poplars, your eyes are brown
At the station's conduct ploschadb me.
Pr.
The train from Moscow
I'll go, I'll go nowhere, oo-oo-oo.
Where can hear the cry of an owl,
Where freezes in puddles melt water, yes-let.
Moscow routes, routes known
Girls risible - eyes fireflies.
Cutting sausage, fresh baranochki,
Scarves, beretochki, knocking heels.
Pr.
Moscow routes, routes central
But increasingly attracts forest grass
Land reckless, communal land
Remaining in my childhood city of Moscow
Ta-da-dai-da-da-da-da ...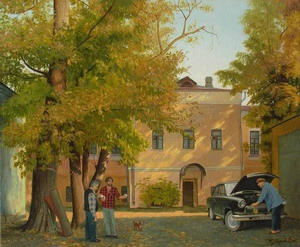 Driving off intrusive thoughts,
I mean, in spite of all thoughts,
Through geranium twisted leaves,
I look at my Moscow court.

Outside the window, the idyll dawn,
Dog tracks in the snow pack,
And former times sign -
On a rope hung carpet.

Before him, the broom rose, janitor -
What prehistoric executioner -
Stares as "Moscow Yard"
Woven on the carpet a cunning workman.

Yard one else will repeat itself,
How matryoshka that you opened.
Drying on the rope old courtyard
In the modern courtyard of Moscow.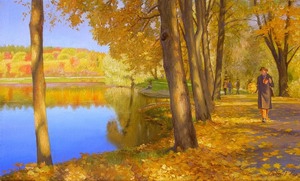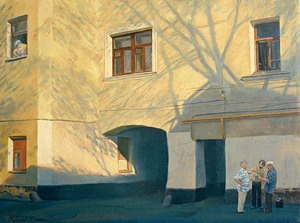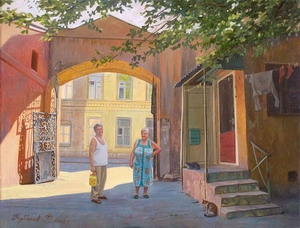 Peering into the tapestry thread
Days since I heard voices.
Escaped oblivion and decay
Patio that too lazy to write.